'Christian' harassment of gay Buddhist store prompts motion for LGBTIQ equality at Albury Council Monday 24th November by Ross Jackson, brother of Olympic medallist Lauren.
…………………
Street preachers to face court at Wodonga Courthouse Wednesday December 3rd.
…………………
Gary Hayward and Andy Stevens are two gay men living and working in the Victorian country town of Yackandandah. They run The Buddha Shop (formerly A Bears Old Wares), and despite a sometimes bumpy relationship with the locals in the past, are nowadays a well-respected part of the local community.
They launched the town's Spring Migration gay and lesbian festival, still going strong ten years later.
Recently their calm was shattered, when they were targeted by a bunch of extremist 'Christians' with links to the infamous Adelaide Street Church, and a cult-like 'church' in the Texas town of Wells.
Gary takes up the story:
Over the last two weeks we were stalked and attacked twice by a cult from America called the Church of Wells. They have also infiltrated peoples web sites.

We have never experienced such hate,and they weren't even arrested. They are well organised and film their exploits as they walk calmly into place and start screaming. They don't listen there in some kind of hate trance. Even when the police arrived they still kept screaming, they have no respect for any other living being.
Locals, including the Anglican church, organised a show of support, which was disrupted by these 'preachers' turning up a second time. Even the much-derided Illawarra Mercury reported this time.
Gary takes up the story again.
The worst hatred attack happened to us today and it lasted for two hours We honour the people that came to help us. Love to everyone who helped us. Thank you ABC radio,Prime News and The Border Mail, Father Peter McCloud and the Anglican Church, the Greens and the God Squad (Christian bikers club) and the wonderful people of Yackandandah.  All came to try and stop this hate. We honour you for your kindness to us. Thank you!
The guys get a double-dose of hate from these people: first for being gay, and secondly for selling what the 'Christians'  call their Satanic' goods. In fact, the guys are Buddhists, and their stock is Buddhist paraphernalia.
Oddly enough, when not screaming bible verses, the 'Christians' have attempted to befriend Andy and Gary. They have also approached at least one local lesbian (without revealing who they are), gathering intelligence about who the guys friends and supporters are, and what they might be planning
Now the law has stepped in. The preachers have been summonsed to appear in court, an AVO is being sought, and they may be charged with stalking, banned from approaching within 200 metres of the store, and from contacting Gary and Andy in any way, including social media. The case comes before the magistrates in Wodonga Courthouse on Wednesday December 3rd.
The incidents have shaken up the town and rallied support for Gary and Andy in a way never seen before. On Monday 24th November a motion in support of LGBTIQ marriage equality will be put before Albury Council by Ross Jackson, brother of Olympic medallist Lauren Jackson.
Meanwhile the preachers have turned up in Myrtleford, haranguing a shopkeeper displaying a rainbow flag. Perhaps we are going to see more of them in rural and regional areas with strong gay populations, such as Daylesford.
So who are these self-styled 'Christians'?
The leader is Mathew N Nardia Bagnal. According to sources, he used to be a surfer, but now he calls himself a Servant of the Lord. He runs his own ocean-front church, Eternal Light Ministries, in an outbuilding on his property in Kiama, just south of Sydney.
Matthew is close friends with "Pastor" Benjamin Patrick. Benjamin Patrick claims to have died, waking up several days later up in a mortuary. Patrick travels the world with his brother Jonathon, collecting followers and quantities of cash.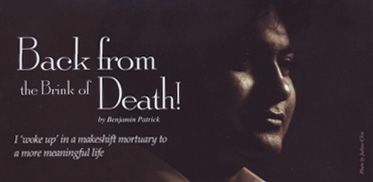 Damien (James) Gloury is a name that will be familiar to those who were subjected to the noisy 'preaching' that used to grace Rundle Street Mall, Adelaide, and which was eventually shut down by the local magistrates. He now travels with Bagnall.
He was involved in a violent clash with gays and lesbians gathered to celebrate the International Day Against Homophobia, in which a woman was tipped from her wheelchair. Gloury used to own and run a cleaning company in Gerringong,Cleaning Experts R Us, but it's not clear they are still in business.
David Sester is an American import from Honolulu, Hawaii.Videos posted online show him 'preaching' at school bus stops in America and to crowds of night-time city-goers. Here he is in Sydney.
And the last of this quartet is Isaac Daniel, also known as Isaac Anderson. He's the least known of the bunch.
It seems that Yackandandah came to their attention thanks to reports of the recent Spring Migration Festival in the town. There are rumours that the group are now attempting to befriend gays and lesbians both in person and via social media, seeking information on other gay businesses, groups and festivals in rural and regional Australia. We may be in for a noisy LGBTI Festival Season!